AV Archives Night is Wednesday, August 15
By: Amy Rudersdorf
August 9, 2018
The Society of American Archivists annual meeting is right around the corner, which means that AV Archives Night is here, too!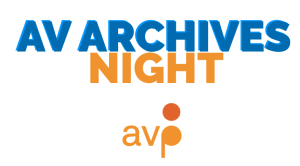 We have a lot in store this year (our fifth!) and hope you'll join us and the amazing organizations who have generously submitted content to the film screening! This year's theme is The Archives of PLACE | People Language Arts Community Experience and the submissions do an excellent job addressing these topics.
The event starts at 7:30 on Wednesday, August 15th, at Black Cat in DC.
Black Cat is located at 1811 14th St. NW, Washington, DC 20009.
The line up is still in development, but as of today (August 9) it is shaping up like this:
(Please note that times are subject to change — we recommend arriving before 8.)
We'd like to send a huge shout out to the many people and organizations who make AV Archives Night a success each year. In particular, our participants in the film screening (listed below), the members of Glass Plate Zero, dj rAt, and the hard working folks at Black Cat!
American Folklife Center, Library of Congress
Arthur Friedheim Library, Peabody Institute of the Johns Hopkins University
DC Public Library
Indiana University Libraries' University Archives
MARMIA (Mid-Atlantic Regional Moving Image Archive)
Moving Image Preservation of Puget Sound (MIPoPS)
National Archives and Records Administration
National Gallery of Art
National Library of Medicine
NPR Research, Archives & Data Strategy team (RAD)
Seattle Municipal Archives
Schlesinger Library, Radcliffe Institute, Harvard University
Smithsonian Institution's National Museum of African American History and Culture
State Archives of North Carolina
University of Missouri-Kansas City
University of Wisconsin-Madison Archives
We hope you'll join us for what we anticipate will be a fun and informative evening.
The event hashtag is #AVArchivesNight.
Add the event to your ARCHIVES*RECORDS 2018 Conference schedule.
Tweet us at @WeAreAVP
As always, AV Archives Night is free and open to the public.