AVPreserve, METRO Release Audiovisual Cataloging & Reporting Tool
By: AVP
September 4, 2013
AVPreserve announces the Beta release of the AVCC Cataloging Tool and Reporting Modules in conjunction with The Metropolitan New York Library Council's (METRO) Keeping Collections Project. The tool is offered as a free resource to help archives manage, preserve, and create access to their collections.
AVCC is a set of forms and guidelines developed to enable efficient item-level cataloging of audiovisual collections. Each module (Audio, Video, Film) includes individualized data entry forms and reports that quantify information such as format types, base types, target format sizes, and other data critical to prioritizing and planning preservation work with audiovisual materials.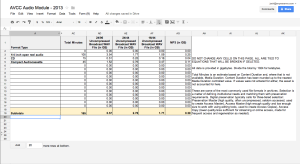 Based on years of experience with how audiovisual collections are typically labeled and stored, AVCC establishes a minimal set of required and recommended fields for basic intellectual control that are not entirely dependent on playback and labeling, along with deeper descriptive fields that can be enhanced as content becomes accessible. The focus of of AVCC is two-fold: to uncover hidden collections via record creation and to support preservation reformatting in order to enable access to the content itself.
More information and a request form for access to your own module is available through the METRO Keeping Collections website at http://keepingcollections.org/avcc-cataloging-toolkit/. AVCC is currently in Beta form and has been designed in Google Docs. Currently only the Audio and Video modules are available. The development of a more stable web-based database utility is anticipated in early 2014, and your feedback in testing this current version will help. Please direct any questions to AVPreserve Senior Consultant Josh Ranger via the AVCC or avpreserve.com contact forms.
AVCC was developed by AudioVisual Preservation Solutions with support from The Metropolitan New York Library Council (METRO) Keeping Collections project. Keeping Collections was launched to ensure the sustainability and accessibility of New York State's archival collections as part of the New York State Archives Documentary Heritage Program. Keeping Collections provides a variety of free and affordable services to any not-for-profit organization in the metropolitan New York area that collects, maintains, and provides access to archival materials.AVCC is licensed under the Creative Commons Attribution-NonCommercial-ShareAlike 3.0 Unported License. To view a copy of this license, visit http://creativecommons.org/licenses/by-nc-sa/3.0/ or send a letter to Creative Commons, 444 Castro Street, Suite 900, Mountain View, California, 94041, USA.AVCC ©2013 AudioVisual Preservation Solutions, Inc.