Filter, Focus, Forward: Intro & Tip 1
By: Chris Lacinak
March 19, 2020
Filter, Focus, Forward is the 2020 mantra I created for myself back in the beginning of the year. The longer version is Filter out distraction and negativity, focus on positivity and priorities, and continue to move forward with progress and momentum. Little did I know just how relevant (and tough!) this would prove to be in 2020.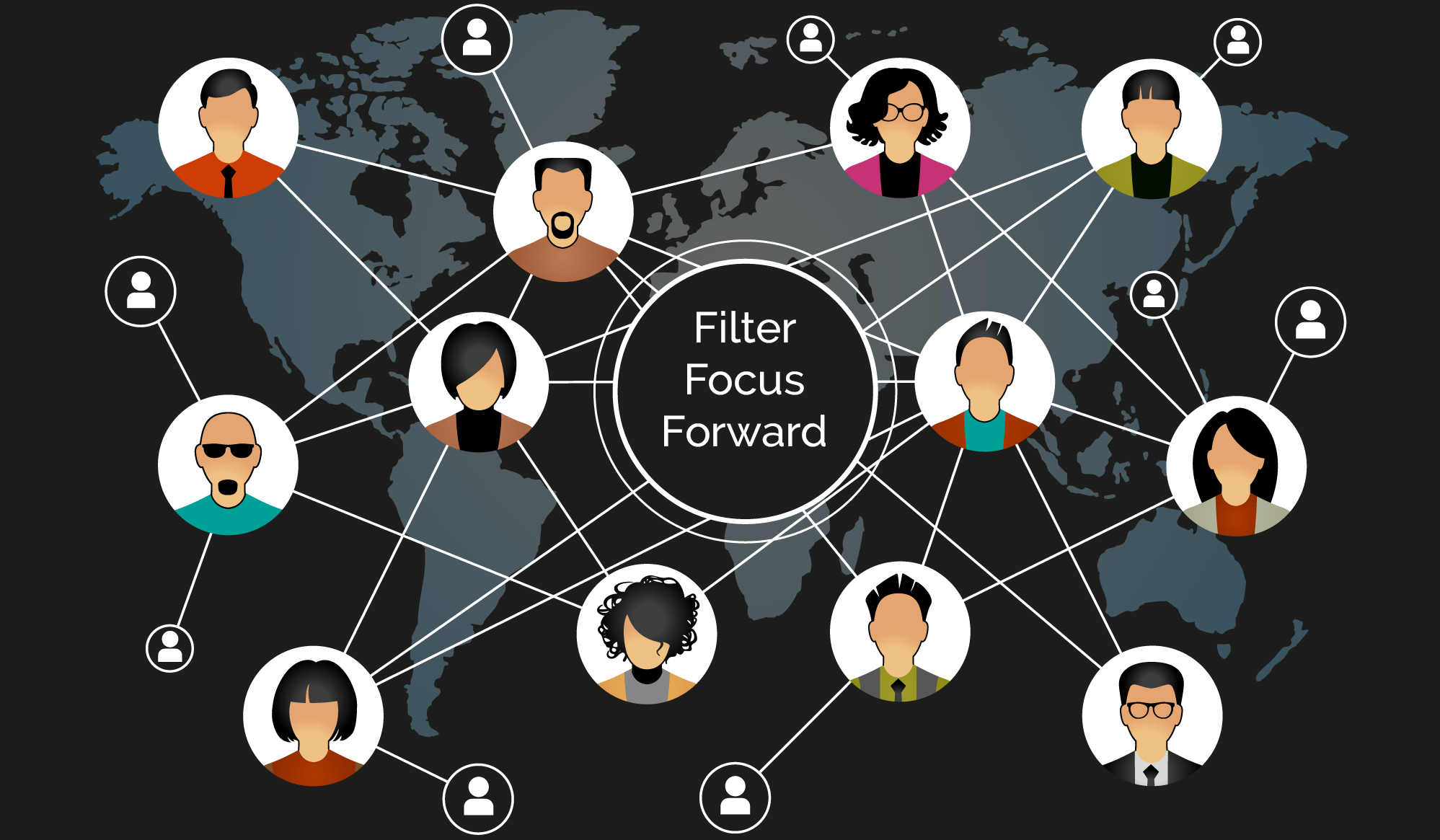 Among the many challenges that everyone is facing in this strange new COVID-19 reality is learning to work from home and/or as part of a distributed team. At AVP, we have been working as a distributed team, with some of us working in offices and some of us working from home, for over three years now. So, we thought we would share some helpful tips on how to be more productive, more effective, and happier in the world of physical distancing.
We are far from perfect, of course, and we're always working on improving, but I think we have some helpful experience to share. With this in mind, and in the spirit of my 2020 mantra, I'll be doing a series of brief posts with tips on working from home and as part of a distributed team.
Please let us know your thoughts and share your tips too!
Tip #1: Make Time for Communication (and Fun)
AVP went from everyone working in a single, open-office environment in Brooklyn, New York, to being spread across three time zones within a month. Say what you will about open-office environments, but it's definitely true that it takes much less effort to communicate, whether it's project status updates or water cooler talk.
When moving to a distributed team we quickly felt the communication gap in every way, shape, and form. This led to operational challenges, functional challenges, and a general feeling of isolation. We realized that this shift in our way of working required a shift in our way of thinking, too. The new approach required us to be more purposeful, planned, and explicit in how and when we would engage. But, it also meant leaving space for meaningful human interaction, as well.
With this realization, we began experimenting with meetings of multiple types, including one-on-one meetings, project team meetings, all-team meetings, group workout sessions, and happy hour gatherings. Without taking you through all of our experimentation, I will say that we definitely ran into too many meetings, poorly timed meetings, wrong types of meetings, wrong meeting participants, and more. It took some work, but we found out what we did and didn't like, and what did and didn't work, and we adjusted until it felt right. I'm listing our meetings below as a reference, but obviously you'll need to figure out what works for you and your team(s).
Most important, is the realization of and accommodation to the fact that working as a distributed team requires additional time when compared to working together in an office. At AVP we track our time very closely, which gives us the ability to know and report on just how much extra time this takes. You can slice and dice the data in all sorts of ways, but when we finally settled on what felt like the right fit for us we saw that this equated to a 20% increase in time spent on communication and being in touch. Keep in mind that this extra 20% is not just about projects or operations. It needs to incorporate fun things and substitutes for water cooler chit chat, which are important points of connection that build strong and cohesive teams. This is harder to grasp than the more utilitarian meetings so let me offer some examples:
Unstructured fun time is really, really healthy (see happy hour in the list of meetings below – booze not required)
Structured time with the goal of fun and camaraderie is important (see question of the week below as part of our weekly all-team meeting)
Below is a list of routine meetings/events that we hold at AVP to serve as a reference. Obviously, many of these are relevant and useful regardless of whether or not you are part of a distributed team, but I think that this higher level perspective will offer greater context of the whole picture.
| | | | |
| --- | --- | --- | --- |
| Meeting/Event | Frequency | Time (hrs) | Description |
| 1:1 | weekly | .5 | Every person meets with the person they report to. |
| All-Team Check-in / Staff Allocation | weekly | 1.5 | Standing agenda including a fun question of the week, show & tell, requests for input, work hax, business development updates, individual capacity in the week ahead, and alternating in an agenda item for staff allocation once a month. |
| Partner Meeting | monthly | 1.5 | The partners meet to discuss larger issues, make strategic and operational decisions, and share information to ensure more cohesiveness and transparency across the organization. |
| 1:1 Quarterly Check-in | quarterly | 2 | Past quarter and next quarter priorities, what's going well, what could we be doing better, bigger picture discussion and planning. |
| All Team Quarterly Check-in | quarterly | 2 | Everyone shares their past quarter and next quarter priorities and the team discusses and finalizes. |
| All Team Team Retreat | 6 months | 72 | Strategy and planning, team building, collaborative in-person working |
| Employee Engagement Survey | 6 months | .17 | This is a point of data collection that feeds discussion, usually at a team retreat |
| Happy Hour | As needed | 1-2 | Usually at the end of the day on a Friday, this is a time to unwind, be goofy, and have fun together. |
| 7 minute workout | As needed | 0.1167 🙂 | This has ebbed and flowed over time but seems to have a time and place where it makes sense and people really enjoy it. |
Keep an eye out for more to come soon on the series home page. 
Filter, Focus, Forward –
– Chris